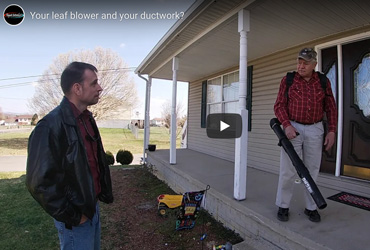 Who hasn't thought of a hundred ways to use a leaf blower? Oh, we can count the ways… maybe not this way, though. A perfect demonstration of a DIY-er hoping to fluff out the dust in his ducts. If you want a serious solution (or at least a more effective one) for your ductwork and you're in the Northern Virginia area, we can help!
Don't try this at home, folks. Not really effective. Buck here can attest to that. Just gets things more dusty and it's really loud. I mean, I guess you could try it, but don't blame us for the idea.
Better to call us to help.